WENSLEY CLARKSON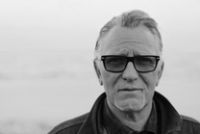 Many thanks to all those names and faces who've contributed so much to the success of my best selling books and TV shows. I've sometimes had to take some liberties in order to protect the innocent and the not so innocent. But it's all been done in their interests.
Wensley Clarkson's books have sold more than two million copies. He's also written movie screenplays, TV drama and worked on numerous television documentaries in the UK, US and Spain. Wensley first covered crime as a national newspaper reporter thirty-five years ago.
His numerous true-crime books include biographies of notorious criminals in the UK, Spain and US. His indepth knowledge is based on his ability to speak Wensley Clarkson books have been published across the world and directly to many of these characters. He's built these underworld contacts up over many years.
Wensley currently has a number of TV drama and documentary projects in development, as well as three new books published in 2021. His expose of UK police corruption LINE OF DUTY - THE REAL STORY came out in early September 2020.
Wensley's latest book SERIAL KILLERS OF RUSSIA was published earlier this year following on from 2020's hit true crime anthologies LINE OF DUTY - THE REAL STORY, THE REAL TOP BOYS and THE REAL SILENT WITNESSES.
---
Vanessa: A Portrait of Evil
Kenny Noye: Public Enemy No 1
---