NEWS
BOOK FAIR NEXT YEAR
ROLL UP ROLL UP Wensley has just signed up for
London, June 2021. Wensley will be giving a talk and signing copies of Line of Duty - The Real Story Inside British Police Corruption. BOOK NOW to avoid disappointment. Quote my publisher "Bonnier" to get ticket discount.
ON SEPTEMBER 19, 2020, the Sun featured an excerpt from Wensley's brand new book THE REAL TOP BOYS
https://www.thesun.co.uk/news/12710204/top-boys-real-life-london-barber-shop-murders-knives/
ON AUGUST 22, 2020, the Sun serialised an excerpt from Wensley latest book LINE OF DUTY THE REAL STORY.
During these difficult Coronavirus times, Wensley will be available to any readers who want to discuss his books. Just drop him a line via the CONTACT page on this website and he will gladly answer any questions.
Between August 16 and 22, 2019, Wensley made three appearances on Sky News talking about his new book THE CROSSING.
This is the link to the main one:
https://wetransfer.com/downloads/58477063d8b8391ee880dfff21f08f0020190827073933/0c45c6fe115e9a5702f321b26bd25abd20190827073933/25d151
ESSEX LIVE published this account of THE CROSSING:
https://www.essexlive.news › News › Essex News › Dartford Crossing
ITN TV APPEARANCE RE THE CROSSING - AUGUST 14 2019
Watch Wensley talking about his latest book on this link:
https://wetransfer.com/downloads/f3c78a82a7549541ca4ef8ce3a9cb6b620190815091147/a4bca3db5197812afdd45af64df9852e20190815091147/f976bb

AUGUST 11 2019 - THE SUN PUBLISHES EXCERPT FROM THE CROSSING - READ IT HERE:
https://www.thesun.co.uk/news/9697274/albanian-gangs-south-east-england-europes-crime-hotspot/
AUGUST 3 2019 - FAMILY AND FRIENDS OF KILLER ROSS MOUNT SMEAR CAMPAIGN AGAINST 'THE SNIPER'S STORY'
This Amazon review from a genuine reader perfectly sums up the situation:
I can only assume the recent derogatory reviews for this book are coming from the family of the convicted assassin. Utterly deluded. After reading this book and spending some time looking into the case myself it is a clear as an Orkney night sky this guy is guilty.
Clarkson, who I have not read before, did a good job on this. It's written in a tabloidy way but that's refreshing. The author asks questions, gathers evidence and puts it forward. There is some speculation but that's appropriate given Clarkson's background. I think he's been around for years.
Families of convicted and guilty crim's are often deluded and that's also understandable. Facing up to cold hard facts about your loved ones being killers must be a real challenge. The Dad, an ex copper, is banged up as well I think. That says a lot.
Bottom line, this is a cracking read and TBH I thought this was good journalism.
JULY 29 2019 - BOOK SIGNING AT GATWICK AIRPORT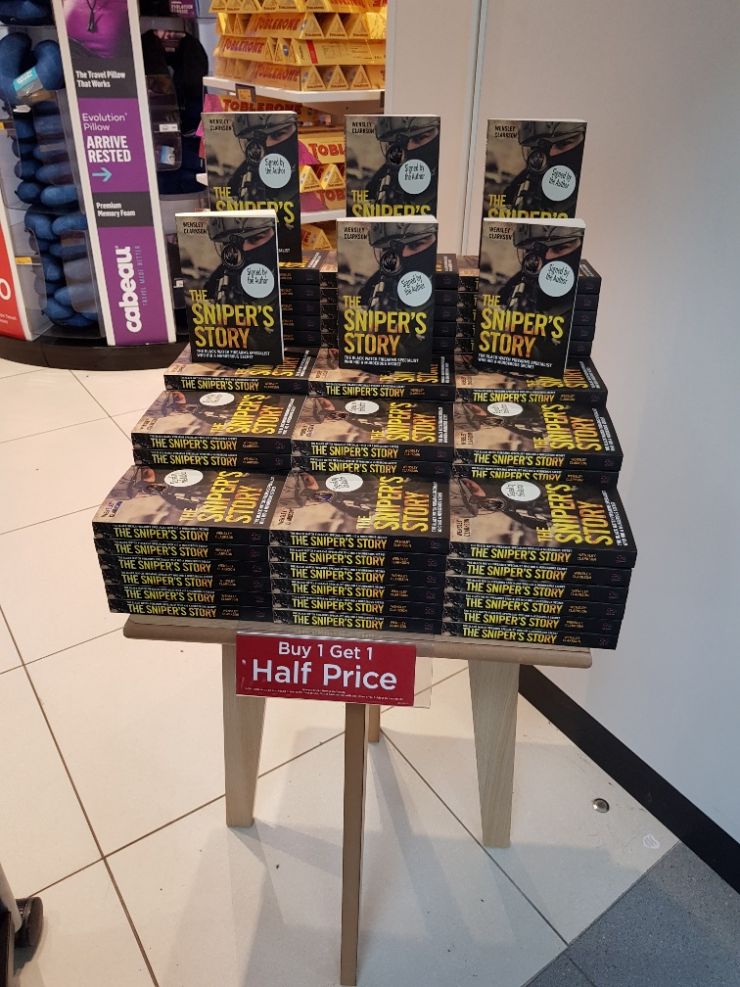 UPROAR OVER WENSLEY'S NEW BOOK 'THE SNIPER'S STORY' - JULY 26 2019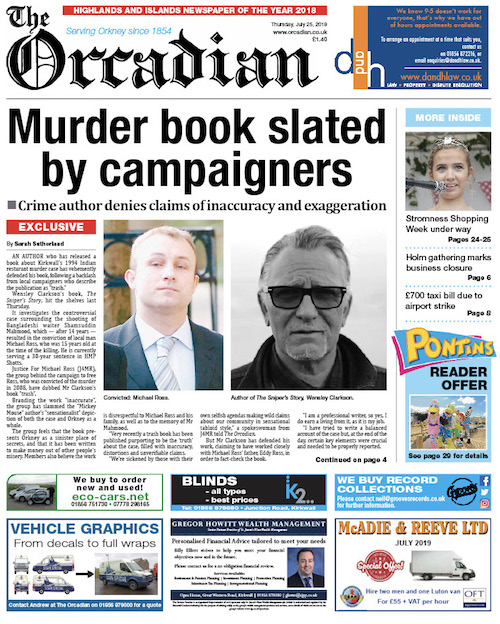 US-TV SERIES IN THE WORKS
Wensley has just made a pilot for a major TV crime documentary series which is expected to be commissioned within the next few weeks.
JUNE 2019 - RADIO APPEARANCE ON BFCS RADIO RE THE SNIPER'S STORY
Please download this link to listen to my outline of the background to the story behind this book:
https://wetransfer.com/downloads/4b46f3ef027f810c390b0a3e2b957c4d20190628093702/5dbc1310120d39e2ed0db1a3cf5f620220190628093702/e099b8